Job Overview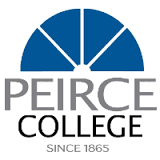 About the College
Peirce College is a private, nonprofit institution located in Philadelphia with approximately 1,700 undergraduate and graduate students enrolled in a wide range of programs that are offered entirely online and designed around the unique needs of busy adults. Peirce is designated as a Minority Serving Institution (MSI) by the U.S. Department of Education, and is the only college or university in Pennsylvania dedicated exclusively to serving adults.
Our Mission
We empower adult learners to improve their lives by achieving career goals through academic offerings aligned with evolving workforce needs.
Our Vision
Be a transformational leader focused on providing adult learners with innovative academic programs through flexible delivery options and dynamic partnerships.
Our Core Values
Vision and Innovation
Excellence
Integrity
Diversity, Equity, Inclusion & Belonging
Collaboration
Learning Centered
Visit www.peirce.edu to learn more
Opportunity:
Peirce College seeks an experienced fundraiser and strategic development leader to serve as the Chief Advancement Officer (CAO) / Vice President, Institutional Advancement. The College is a 155+ year old independent institution in Philadelphia, exclusively serving adult students.
The CAO provides vision, leadership, and direction for all initiatives aimed at enhancing the College's development and philanthropic efforts, including corporate and foundation giving. The CAO oversees the next phase of post pandemic fundraising efforts aimed at the region's recovery and the College's role in helping people transform their lives through education and training.
The CAO reports to the President, and works closely with the Board of Trustees, and leaders across the College to plan and seek the philanthropic support to move the College's strategic goals forward. A member of the President's Council, the CAO serves as the chief fundraising officer for the College. The incumbent serves as the liaison to the Board of Trustees Advancement Committee to provide stewardship and oversight of advancement and fundraising efforts.
Core Competencies:
Strategist and Planner
Written and Verbal Communication
Time Management
Presentation and Public Speaking Skills
Relationship Builder
Technology Skills
Required Qualifications:
Bachelor's Degree required, advanced degree preferred.
Multiple years of progressive experience in advancement in higher education or related field.
Must have a proven track record of fundraising experience, preferably in higher education.
Excellent interpersonal and written communications skills.
Work collaboratively and collectively with and through others to achieve success.
Successful management of diverse funding pipelines, both private and public
Experience and knowledge of Philadelphia philanthropy environment and funding sources.
Ability to initiate and successfully build relationships with prospective donors, alumni, foundations, and corporate representatives.
Must have strong executive networking skills.
Strong leadership, prioritization, and time management skills.
Demonstrated understanding of best practices in fundraising, alumni engagement, donor recognition, and stewardship of financial assets.
Must be able to take initiative with minimal guidance and be comfortable working both as an individual and as part of a team.
Demonstrated commitment to diversity, equity, and inclusion with the ability to work collaboratively with constituencies from diverse backgrounds.
Experience with the development of budgets and the management and distribution of resources.
STATUS: Full-Time/Exempt. Position can be performed remotely.
HOURS: Day, evening, and weekend responsibilities, as required.
REPORTS TO: President & Chief Executive Officer
Peirce College is an Equal Opportunity Employer and is committed to ensuring equal opportunity in all employment decisions, policies, and practices.
The College does not discriminate in employment on the basis of race, color, religion, sex (including pregnancy and gender identity), national origin, political affiliation, sexual orientation, marital status, disability, genetic information, age, membership in an employee organization, retaliation, parental status, military service, or other non-merit factors.